Free engraving for all rings - with live preview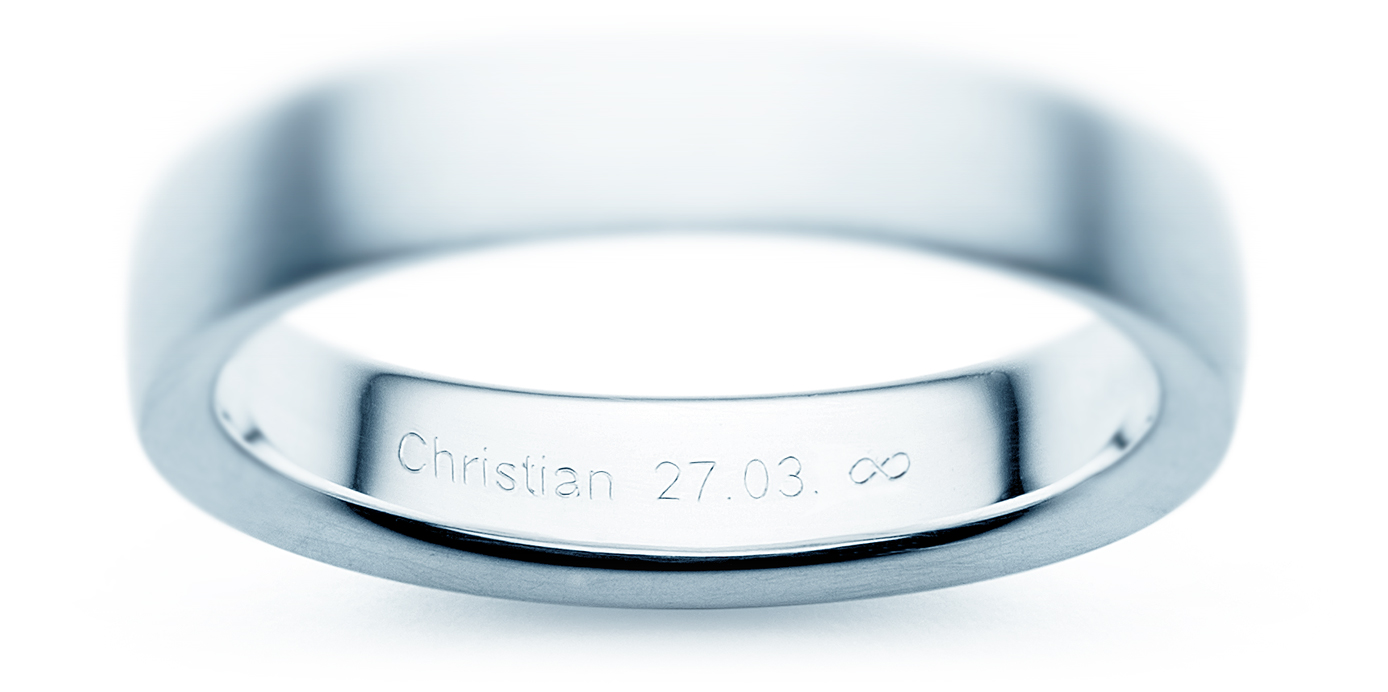 Engraving example with a modern and simple font (Arial)
The engraving of rings has been common for wedding rings and rings for a partner for a long time. Now this trend is also becoming popular for engagement rings. With a personal engraving the engagement ring becomes even more individual.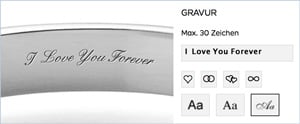 With us you receive a free engraving for your engagement ring. We'll explain how to do it here. You will also learn about the differences between diamond and laser engraving.
On our product pages you can simply enter your text in the "ENGRAVING" tab on the right hand side (max. 30 characters). You have 3 fonts and 4 different symbols to choose from. With our live preview you can directly see your text with the font you have chosen. If you are satisfied with the result, you can continue with your order.
By the way: All precious metals - such as white gold, yellow gold, rose gold, silver or platinum - can be easily engraved by us.

Engraving example with a classic font (Times) and a curved font

Diamond engraving: durable, fast and free of charge
With diamond engraving, a precise diamond engraving method is used to engrave the inside of the ring band. The precious metal is densified at the processed point and the text is visible as a slight indentation. This technique delivers particularly long-lasting, shiny results and is completely free of charge.
Laser engraving: versatile and individual
With laser engraving (on request), an image is burned into the jewellery using a laser. Laser engravings are less abrasion resistant than diamond engravings. However, this process can also be used to create graphic surfaces and patterns with a resolution of up to 600 dpi. All you need is a black and white image (such as line drawings*, logos, coats of arms, coordinates or a text in your own handwriting) of your desired image.
Please note that the dimensions of the engraving depend on the width of the ring band. The engraved area is a maximum of 2.8 mm high.
Should you wish to have your own laser engraving image for your ring, please call us on +44 20 380 832 99 and we will explain exactly how to best prepare your desired image for engraving.
*Line drawings are pictures, graphics or pictograms that consist only of black and white pixels, lines or areas. In contrast to grayscale images, they do not contain any gradations (grey values) between black and white.
Real customers opinions
Transparency is important to us, so we are happy to show you what our customers say about us.
Modern solitaire ring
The diamond in the modern setting reflects a maximum of light because of the beautiful open frame with 4 prongs.