Configure wedding rings & wedding bands and buy online
Buy handmade wedding rings directly online or design them yourself in our wedding ring configurator - completely individually or perfectly matching the engagement ring.
Manufacturing by hand – Made in Germany
Wedding bands matching the engagement ring
Free shipping in noble jewelry box
50 days time: look & try on at home at your leisure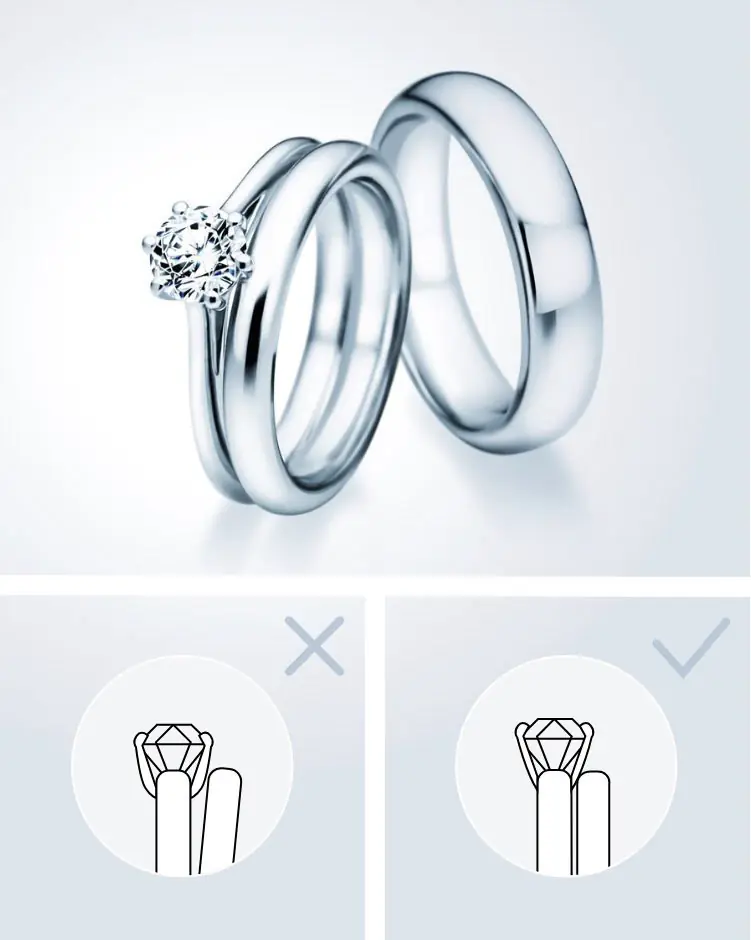 How do we design our "perfect match" models?
For many engagement rings we offer, there are perfectly matching wedding ring models. We develop our jewelry as symbols of important milestones in our customers' lives. Past experiences and future events are incorporated into the design of the jewelry.
At the end of this developing process, jewelry pieces are created that - in shape and color - perfectly match and can be combined harmoniously with each other.
We are aware that for couples the ceremonial act of getting married does not just begin at the altar. Almost all of our clients celebrate a romantic engagement before, to which the future bride is given a engagement ring.
The secret: design the engagement ring together with the wedding band
Engagement rings are in trend. More and more women are wearing engagement rings after the wedding on the same hand in front of the wedding ring.
"Perfect-Match"-Combinations are designed as a unit already in the design process. This allows us to guarantee outstanding comfort on the finger and a harmoniously coordinated design language. This allows us to guarantee outstanding comfort on the finger and a harmoniously balanced design language.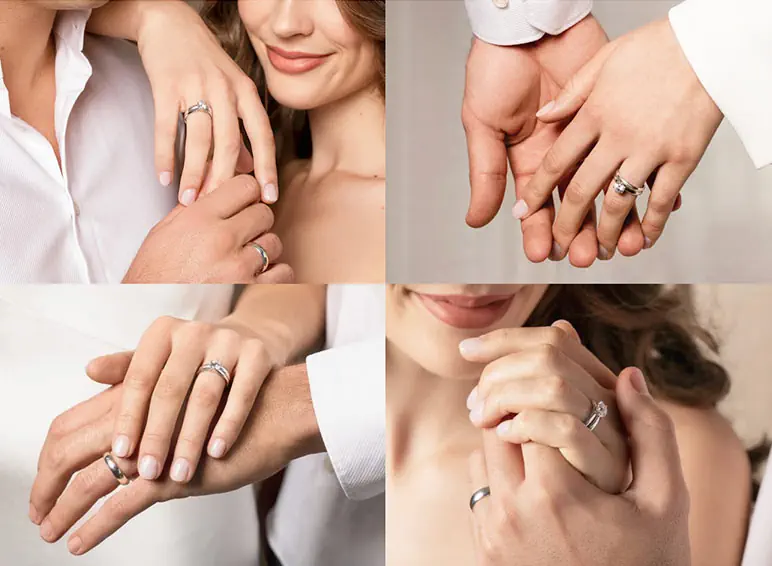 What is the "Perfect-Match"-guarantee?
The special properties of the wedding rings developed in this way are summarized in the "Perfect-Match"-guarantee. We ensure that the profiles match the corresponding engagement ring model precisely.
If the fiancee already wears an engagement ring from our manufacture, we suggest perfectly matching wedding band profiles in the configurator.
It is the same with the precious metal alloys. They match exactly the precious metal color tone of the corresponding engagement ring model. If the engagement ring is made of 18 carat white gold and you select also 18 carat white gold as an alloy for the wedding ring, we make sure that the precious metal colors of both jewels are perfectly matched.
This way, you can easily customize the wedding ring yourself and it will perfectly match the engagement ring.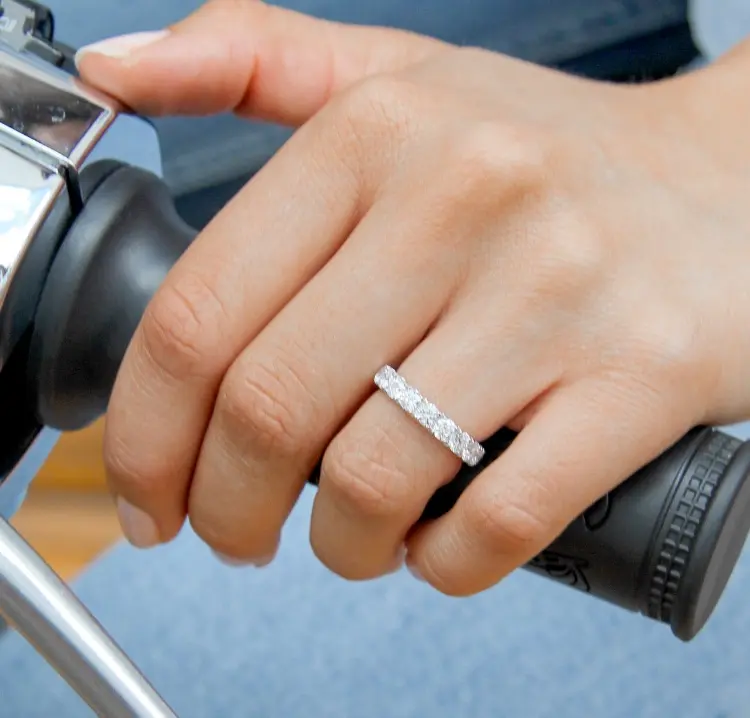 What precious metal for wedding rings?
The choice of the right precious metal for wedding rings is already clear to many women when they look at their engagement ring. If the rings are to be worn together after the wedding ceremony, almost all women want to choose the same metal.
White gold is the clear favorite for most women. Yellow gold, rose gold and silver follow, in some cases well behind. Although few women choose platinum and palladium, men like these extremely hard and durable precious metals for wedding rings all the more.
What alloy for wedding rings?
| Name | Gold content | Commonly used in... |
| --- | --- | --- |
| 24K | 99.9% gold | (too soft for juwellery) |
| 23.2K | 96.5% gold | mainly Thailand |
| 22K | 91.6% gold | asian countries |
| 21K | 87.5% gold | Arab countries |
| 20.2K | 84% gold | France |
| 18K | 75% gold | western countries |
| 14K | 58,5% gold | western countries |
| 8K | 33.3% gold | restricted EU, USA |
First of all: Yes, there are online stores that handle this differently. We decided to offer our customers only the two highest quality and most durable gold alloys - 14 carat (585/-) and 18 carat (750/-). Both alloys have a beautiful color, a solid fine gold content and are particularly durable and robust.
333 gold (8 carat) contains only one third of real gold and accordingly, it looks pale. In some countries, 333/- gold may not be sold as real gold jewelry at all.
At the same time, the price difference of around 32% compared to 14-carat gold wedding rings is quite noticeable for a common wedding ring model. In the long term, however, it is almost never worthwhile to go for the less durable cheap gold.
We always like to refer to the fact that a wedding ring is bought to last a lifetime.
On the other hand, it is not possible to make durable and sufficiently stable jewels from fine gold alone. Pure gold or alloys with an extremely high proportion of fine gold (from over 80%) are so soft that they bend even with everyday use. This can have unpleasant consequences, for example if the ring finger is injured by strong mechanical impact.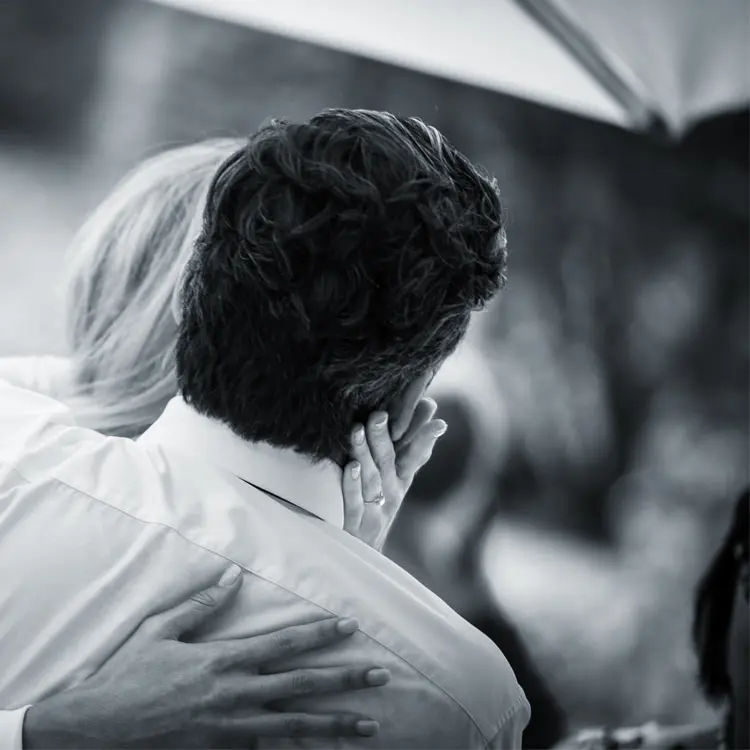 Price cannot only be explained rationally
The aspects of time and emotion should not be underestimated when buying wedding rings. Anyone who assumes that an alliance with a lifelong duration will be formed at the altar can hardly opt for inferior quality and low durability.
On the contrary, these jewels are meant to last a lifetime, they are a highly emotionally charged piece of jewelry from the day of the wedding. Anyone who has ever experienced a person who thinks he has lost his good piece, understands exactly what is meant here ...
When buying wedding rings, it is worth paying special attention to high-quality materials and, if in doubt, prefer to invest in quality for the sake of durability.
Our precious metal jewelry is made of high quality alloys and is comparatively stable in value. The purchase of precious metal jewelry is therefore difficult to compare with the purchase of normal goods and their loss of value.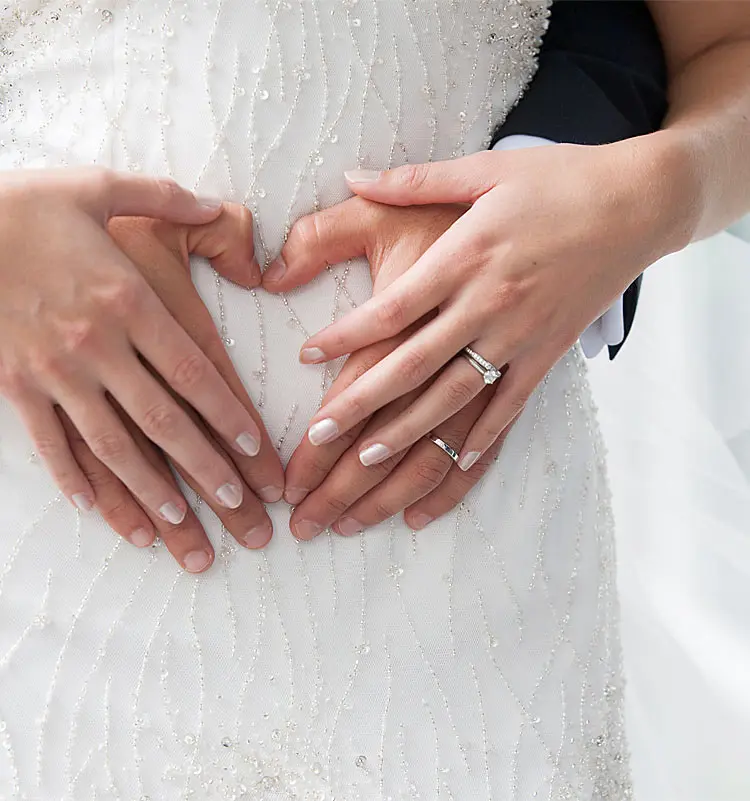 Buying wedding rings as an investment in the future
When money is not so loose, some young couples save up for their dream rings. They see the wedding ring purchase as an investment in the future. A future in which demands normally tend to rise and so does disposable income.
In that case, a cheap wedding band may be out of line, but not easily exchanged for an appropriate, higher quality upgrade for emotional reasons.
So if you want to take emotion and time factors into account, reach for more exquisite gold wedding rings at pair prices that range from 1,000 to 1,500 euros. If all this is not important to you, you can also go as far as our lower wedding ring price limit of 500 euros per pair if you have a very slim ring band.
Overview wedding ring cost per pair for various materials
| Wedding ring material | Cheapest online price* |
| --- | --- |
| Silver 925/- (sterling silver) | 80 € |
| Stainless steel | 120 € |
| Titanium | 150 € |
| Carbon | 220 € |
| Ceramic | 210 € |
| Wolfram | 180 € |
| Gold 333/- (8 carat) | 300 € |
| Gold 585/- (14 carat) | 510 € |
| Gold 750/- (18 carat) | 620 € |
| Platinum 600/- | 600 € |
| Platinum 950/- | 1,000 € |
| Palladium 500/- | 700 € |
| Palladium 950/- | 1,100 € |
| Tantalum 900/- | 650 € |
*As of July 2021; prices rounded.
Buy wedding rings in gold online
By far the most common wedding rings brides and grooms buy are in gold. The soft hue smoothes the skin. No other precious metal is so closely associated with the theme of marriage as yellow gold in wedding rings.
Why wedding rings in gold?
Gold has been the classic sign of eternal love for thousands of years. To this day, people around the world fall for the charm of the shimmering yellow precious metal.
Golden wedding rings not only flatter the skin tone, but are also the most famous symbol of the wedding promise.
Gold was already a visible sign of power and luxury in the Egypt of the Pharaonic era. The shiny yellow precious metal symbolized the immortal spiritual bond with the gods and thus also served to vividly underscore the pharaonic claim to power.
Burial objects found in the cult sites of the long-sunken land on the Nile are predominantly made of this purest of metals. When the precious objects were exhumed after thousands of years, the gold had lost none of its inherent brilliance.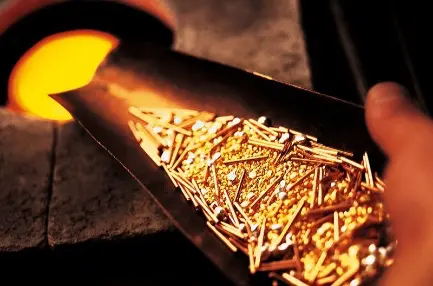 So gold has been worn as jewelry for thousands of years and stands not only for luxury, but also for immortality. Perfectly suited as a symbol of eternal love and a lifelong happy union of two people.
It's no wonder that yellow gold has always been the most popular choice as a traditional precious metal for wedding rings, and for many couples it best embodies the permanence of marriage.
Gold is a pure element. Pure gold (fine gold) cannot be decomposed or attacked by acids or alkalis. Like few materials, gold withstands strong stresses and never loses its very own shimmer.
The high-quality physical and chemical characteristics of fine gold make it so interesting for a considerable number of applications. In its pure form, gold is easy to work with. Nevertheless, its structure is so stable that it can be rolled out into extremely thin layers - e.g., gold leaf.
Half of the gold mined worldwide is used to make jewelry. About 30 percent is stored as gold bars and coins in vaults around the globe. 10% is used industrially.
What yellow gold alloy best for wedding rings?
We recommend 14 karat (585/-) or 18 karat (750/-) for yellow gold wedding rings. Both alloys have a beautiful gold color, a high fine gold content and are still particularly durable and robust.
Wedding rings in white gold (not only) to match the engagement ring
More and more couples are choosing wedding rings made of white gold. A good reason: women who own an engagement ring made of this bright precious metal want a second matching masterpiece.
Which white gold wedding rings?
White gold is - next to classic gold - the most popular wedding ring precious metal among young couples. If the piece of jewelry is to be worn together on the same hand with the engagement ring, four out of five women opt for the same precious metal as the basis for finding matching rings.
And since the one already being worn is in most cases made of white gold, the obvious step is to favor a wedding ring made of the same white gold alloy.
We produce white gold in 14 and 18 carat and it is durable and long-lasting. A layer of rhodium (a by-metal of platinum), which can be easily renewed even after years, protects the surface additionally.
This rhodium layer provides the perfect shimmering white-silver finish that makes white gold rings so popular.
Which white gold alloy for wedding rings?
We recommend 14 carat (585/-) or 18 carat (750/-) for white gold wedding rings. Both white gold alloys have a high gold content and are particularly durable and robust.
Rose gold wedding rings – a trend!
More and more couples are adorning themselves with rose gold wedding rings. A growing trend for which there are other good reasons besides the fresh hue, which we explain below.
Trend precious metal and beautiful alternative
The addition of copper gives the precious metal alloy, also known as red gold, its noble, delicate color.
Rose gold appears soft and smooth on the skin.
Why are rose gold wedding rings becoming more and more popular?
It is not the first time that rose gold wedding rings enjoy great popularity. Already in the Tsarist Empire of the 19th century, rose gold was appreciated by the Russian aristocracy.
Rose gold was widely popular precious metal for the manufacture of high quality jewelry. In recent decades, rose gold fell more and more into oblivion.
Rose gold was ridiculed as Russian or Turkish gold, was considered unfashionable by many, and could only be found as vintage jewelry in dusty showcases of old antique dealers.
Stars from Hollywood were among the first to dare to awaken the pink shimmering alternative from its slumber a few years ago and show themselves in public with jewelry made of rose gold.
From the red carpets of Los Angeles and the Croisette, rose gold conquered the photo galleries of upscale fashion magazines and within a short time established itself as a permanent fixture in nearly all jewelry collections around the globe.
This success is due in no small part to the fact that the special delicate yellow-pink shimmering alloy can be worn perfectly by light to dark skin types.
What is the best rose gold alloy?
14 carat (585/-) or 18 carat (750/-) are both excellent alloys for rose gold wedding rings. A high fine gold content and strengthening aggregate metals make these jewelry pieces solid and resistant.
Exclusive platinum 950/- wedding rings
Exclusive wedding rings made of platinum - true luxury for the most beautiful day in the life of a young couple. The precious metal is currently considered one of the most valuable precious metals for the manufacturing of jewelry.
Why is platinum so popular?
Due to its excellent durability and tarnish resistance, platinum is the ideal precious metal for the production of high-quality jewelry and ensures extraordinary durability.
The high density of the material optimally protects platinum wedding bands from corrosion. It is a special pure precious metal and is suitable even for people who are otherwise allergic to metals.
Since when is platinum used?
When exactly the first couples started wearing platinum wedding rings cannot be traced back exactly.
What is certain, however, is that it has a long tradition as a precious metal for jewelry. Already from the time of the first highly developed civilizations in South America, jewelry is known that contained over 80% platinum.
Once a by-product of gold mining
Platinum was a by-product of gold mining in Egypt at the time of the pharaohs. The clean separation of the two precious metals was an insurmountable obstacle for the Egyptians. It was not until the middle of the 18th century that it could be extracted as a 100% pure metal.
Today, platinum jewelry is considered particularly exclusive and, due to its light gray coloration, also quite unusual.
Palladium 500/- wedding rings
Palladium wedding rings do not tarnish and retain their typical metallic shine. This makes them particularly easy to care for pieces of jewelry, which have a slightly darker and more yellow color than the other whitish-grey precious metals.
Why to choose palladium?
Palladium has a similar color to platinum. Wearing wedding rings made of palladium is described as particularly pleasant, also because palladium is significantly lighter than other precious metals.
What is palladium?
Palladium belongs to the group of platinum metals and was discovered about 200 years ago. Its name comes from the epithet of the Greek goddess Pallas Athena.
It is extremely hard, but can be processed excellently due to its low melting point. The pure metal is hardly available as a naturally occurring resource. Palladium is therefore now mainly found in the mining of copper, silver and gold.
In addition to palladium jewelry, it is used in the alloying of white gold because of its discoloring properties.